Monday Quiz About Me
1. Finish this sentence: I had a great…
Dinner! I am getting sick of Asian food and I had the most delicious chicken cream pasta. Mmmmmmmmmmm.
2. What is your favorite kind of soda pop?
Original Coca Cola!
3. What is your weather like today?
Surprisingly chilly in Mongolia… I didn't pack any warm clothes!
4. What is your favorite workout song?
I haven't worked out in awhile…
Bonus question for blog hoppers to answer:
5. If someone brings you back a souvenir from a trip, what do you hope they bring you?
Mingle Monday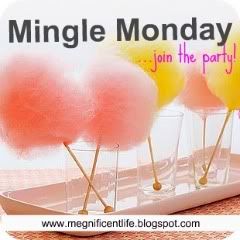 What are your favorite ways to relax?
I love to take baths. And that's something I haven't been able to do regularly for awhile. I didn't have a bathtub while living in Korea for two years. (One time when I was really sick, I put a beach towel down in the shower and laid on it while the hot water poured over me. It was the best I could do.) Bathtubs aren't common in Asia. So I was delighted to discover that the hostel I'm staying in now has one. I'm sick now as well and the hot bath I took tonight felt so good!
Chats on the Farmhouse
1. What do you do when friends or family pull out a camera? Hide, pose, smile, pull out your own camera and take a photo of whatever they are photographing, or something else?
Pose and smile!
2. Did you take any type of music lesson in elementary school?
Recorder in 4th grade and clarinet in 6th grade.
3. What is your favorite color of cat (even if you aren't a cat person)?
White.
4. What did you have for dinner yesterday?
Ramen noodles. Yum…
5. Do your feet hit the floor running in the morning, or do you drag yourself out of bed?
Drag!
Oh, How Pinteresting!
1. Definitely going to buy a nesting doll set when I am in Russia!
2. I really want some kind of map necklace.
3. A Hunger Games necklace would be cool too.
5. Guess I'll jump on the chevron bandwagon…
The One-Minute Writer
Write about something you were scared of when you were a child.
Horses. I don't know why, I have just always had an irrational fear of them. Particular riding them. We are going on a tour of the Mongolian countryside tomorrow and one of the activities is horseback riding. Which I am going to skip!!